H2O Adventures
The Best Whitewater Tours in all of Costa Rica!

About Us
Before you go on an adventure with us you might want to know who we are and what we are about. At H2O Adventures our team are local guides who learn about rivers on the Savegre and Naranjo. We've also had a mixture of different nationalities and backgrounds helping us out. Coming from United States, Canada, Chile, Mexico, Argentina, Uruguay, Spain, Turkey, Germany and of course Costa Rica. We are a group of outgoing, fun and active people dedicated to provide safe and comfortable adventure trips for everyone to enjoy.
The Beginning
All the idea started at the end of 2001. After working together as Rios Tropicales Adventure guides, Arturo Oropeza and Leonardo Vazquez started thinking about their own adventure outfitter. It was an overnight trip in the General River that catapulted H2O Adventures. By June 2002, we located in Manuel Antonio, Quepos and the 3rd. founding member, Roland Cervilla joined the team. He helped develop the trips we now share with you. His knowledge of the local rivers and his organic farm have made our trips more than a rafting trip, they truly became a learning experience even before you get wet!! The company started with two rafts and the help of friends and colleagues who worked very hard to set up the guidelines and logistics that make our trips an unforgettable experience and a highlight on your vacation. After years of working together, we noticed that our interests and priorities were growing on different paths. First Roland in 2004 and then Arturo in 2010, sold there shares and moved on to new and challenging projects.
H2O Adventure
Our Company's Mission
"Our mission is to provide our staff and customers a safe, fun and friendly environment through journeys that stimulate joy and long lasting memories."
Business Philosophy
"To offer at a fair price the best quality activities and accommodations in Costa Rica. To ensure a working environment where the staff and guests show mutual respect and dignity. To thank each guest for choosing H2O Adventures. To make a fair profit that will allow us to contribute to the community we serve.
Leo Vazquez
Leonardo Vazquez "Lewinski". Leo started guiding in Costa Rica in 1992. As a river guide and kayaker, he became a world traveler and has guided in more than ten different countries around the world.
Leo is always developing ideas for new trips and adventures to share with you. Born in San Jose, Costa Rica in December 4, 1972.
He has a Masters degree in Natural Resources Management and has lived in Quepos, Costa Rica since H2O Adventures was established. He became a IRF (International Rafting Federation) instructor on 2013 and is planning to start teaching future generations.
---
Cara Naylor
Cara is a world traveler. Early in her life she was lucky enough to live in Asia, travel around Africa and backpack through Europe. Later on, she worked for Backroads, an Active Travel Company that took her to South America and Costa Rica.
Cara was born in West Virginia, United States on May 21st. 1976. She has a degree on Marketing from George Washington University and she moved to Quepos in 2007. Cara and Leo met on the river, fell in love and got married November 2009.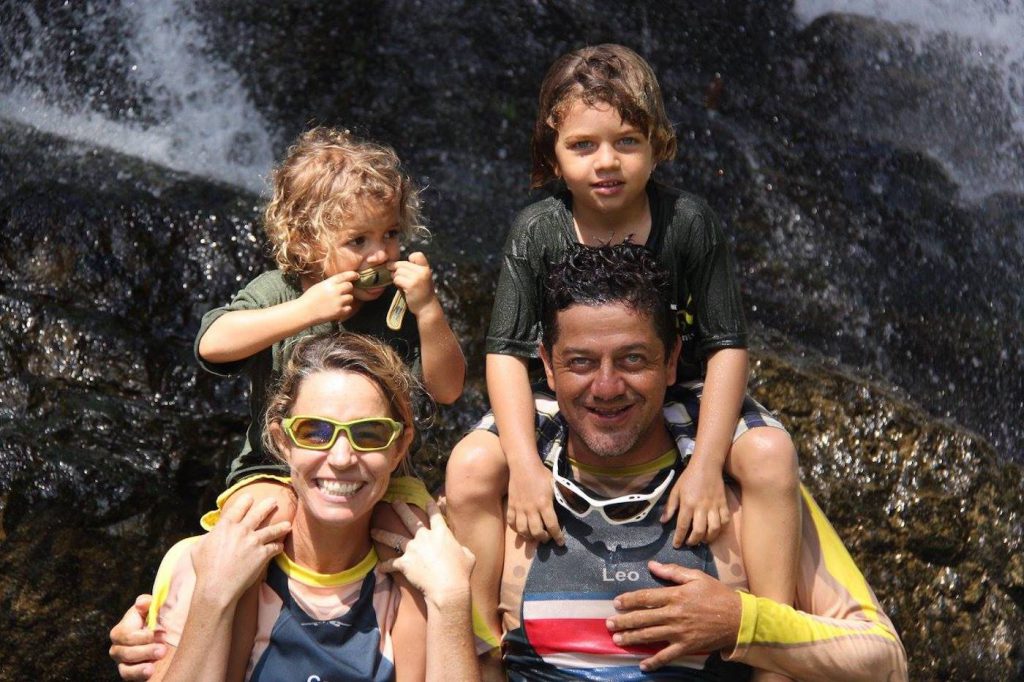 ---
Our GREAT TEAM without whom we could never run this successful operation on a daily basis
Our Guides
Our guides are the engine that drives H2O Adventures day by day, offering our dear clients an Experience beyond compare, with value-added services, new experiences and above all, safety, knowledge and friendliness.
Our Office Team
Our sales, marketing and office staff is another very important part of our company. We thrive to provide a world class service, including punctuality, fast response and complete and knowledgeable information to all our clients, new as well as those who have been with us on our trips in more than one occasion.