Manuel Antonio 3 Waterfalls and Ventana's Beach Tour
Another wonderful day in Paradise

Tour Description
3 Waterfalls and Ventana's Beach Tour
The Barú District of the Central Pacific coast, at just 40 minutes south of Manuel Antonio, is known as the waterfall capital of Costa Rica. As the Rainforest covered mountains drop towards the coast, they produce the most amazing Waterfalls the country has to offer. Swim and float on the pools, jump or slide into them, we have selected and grouped the waterfalls according to your activity level.
This is the "Pura Vida" tour. Starting with a smooth ride over Hwy 34, until you reach Portasol Waterfall. This first stop will be the preview on the amazing day ahead, this great Waterfall offers all kinds of jumping challenges and a great pool to just enjoy nature as it is.
Our next stop is Uvita Waterfall, consisting of two Pools and a Waterfall with the option to slide down on it… How cool is that? The climb to it is what we call 'adventurous'. The Uvita Waterfall is surrounded with the amazing energy of mother earth that will make you feel in contact with it.
Continuing south we go to Pavón Waterfall, this is a crack on a 40 feet tall wall, with a huge rock splitting the chute of water. The pool behind is calling for the refreshing swim of the day.
Pricing and Reservations
3 Waterfalls and Ventana's Beach Tour
Cost
• $130 USD per Person
Daily Departures
• 9:00 AM
Distance
• 82 Km / 51 Miles
Duration
• 7 hours
Season
• All year
Minimum 4 passengers, 5 years old and up, NO previous experience needed
Playa Ventanas
To put a cherry on the pie, we visit Playa Ventanas ¨Windows Beach¨, its named that way because of its set of caves on the mountain on the right side of the beach, see through them is an amazing sight also hearing the waves crashing inside the caves is astounding. We will enjoy a refreshing snack on the beach and be able to swim on the warm waters of the Pacific Ocean. These place offers a variety of experiences at once, with a breathtaking scenery of the mountains just in the back of the beach, the place looks like taking out of an old Pirate Book, are you ready to find one of the hidden jewels of the Pacific Ocean?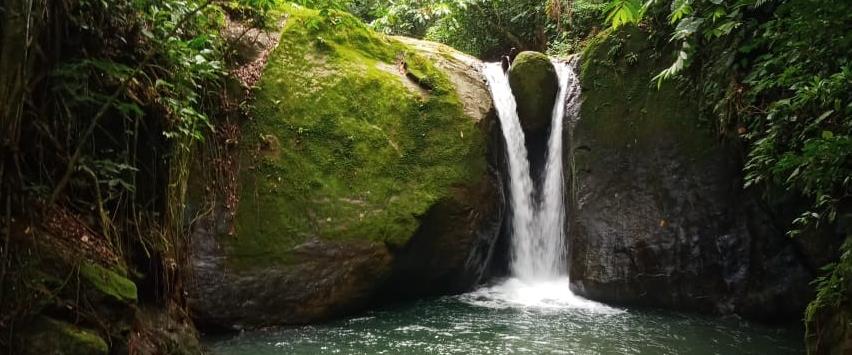 Another wonderful day in Paradise, Pura Vida!